(Last updated on April 13th, 2023)
Can the Jetson Bolt Pro convince commuters to make the switch to e-bikes? This compact e-bike gets you to work or school sweat-free and is small enough to carry into the office. The 350-watt motor and innovative folding design could be the solution urban riders seek, and the competitive price is perfect for tight budgets.
The Bolt Pro's affordable price tag is unbeatable, but is the deal too good to be true? In this article, I summarize the Bolt Pro's specifications, give specific ratings, and discuss possible alternative e-bikes. Keep reading to know my thoughts on the Jetson Bolt Pro and its performance on the city streets.
What Type of Bike is the Jetson Bolt Pro?
The Jetson Bolt Pro is a compact e-bike designed for city use. While it's technically a folding e-bike, only the steer tube folds down rather than the traditional double-fold system where the frame folds in half. A 350-watt rear hub motor tops out at 15.5 mph with throttle or pedal assist modes.
The Pro model is an upgraded Jetson Bolt electric bike with a 250-watt motor and the same top speed. The standard Bolt doesn't have pedals and only runs via the twist throttle for pedal-free cruising. The Jetson Bolt Pro has a retail cost of $599.99 but is currently on sale for $499.99 on Jetson's website. This falls well under a grand; riders can see our list of the best e-bikes under $1,000.
Check out this hands-on review video to see the Jetson Bolt Pro in action.
Jetson Bolt Pro Specs at a Glance
350-watt rear hub motor
Twist throttle and pedal assist
Max. range of 30 miles
15.5 mph top speed
14" wheels
Dual disc brakes
Total weight 42 lbs.
Is Jetson a Good Brand?
Jetson is a lesser-known brand in the e-bike industry, but what they lack in name recognition, they make up for in their variety of electric mobility products. The brand also specializes in electric scooters, hoverboards, and products for kids. Jetson offers the Bolt and Bolt Pro foldable e-bikes and full-sized electric bikes designed for urban use.
The emobility brand made a splash because their Jetson electric bikes ended up in Costco, the huge wholesale retailer with stores all across the US. This introduced the Bolt Pro folding electric bike to millions of shoppers where they could check out the bike in person and purchase it at a discount— the Costco in-store price for the bike was around $349-$375 instead of the $599 retail price on the Jetson website.
Jetson is currently offering the Bolt Pro for $499 online, so customers can snag a deal while the sale lasts. Recent articles and user reviews have reported that Costco is now Jetson Haze Electric Bike model instead of the Bolt Pro. Compared to the cheaper Bolt Pro, the Haze is a fully-foldable Jetson bike with larger 16" wheels and a removable battery but it currently costs $549.99. Considering how much electric bikes cost, both models are a convincing deal.
Performance Rating 6/10
The Jetson Bolt Pro folding electric bike is designed for cruising through the city streets, and it does a decent job for such an affordable and compact e-bike. I don't expect tons of power or breakneck pace, but the 350-watt motor provides sufficient speed on commutes and quick errands. The standard Bolt has a 250-watt rear hub motor, and Jetson did well to upgrade the motor on the Pro version.
The listed top speed is 15.5 mph, which is usually achievable. However, the suggested 30-mile range is overestimated, so riders can expect less distance on a single charge. If you only go on short trips or can easily recharge at your office, that range should be fine for most days.
If you're looking for an electric tricycle, check out our list of the best three-wheeled e-bikes.
Foldability Rating 8/10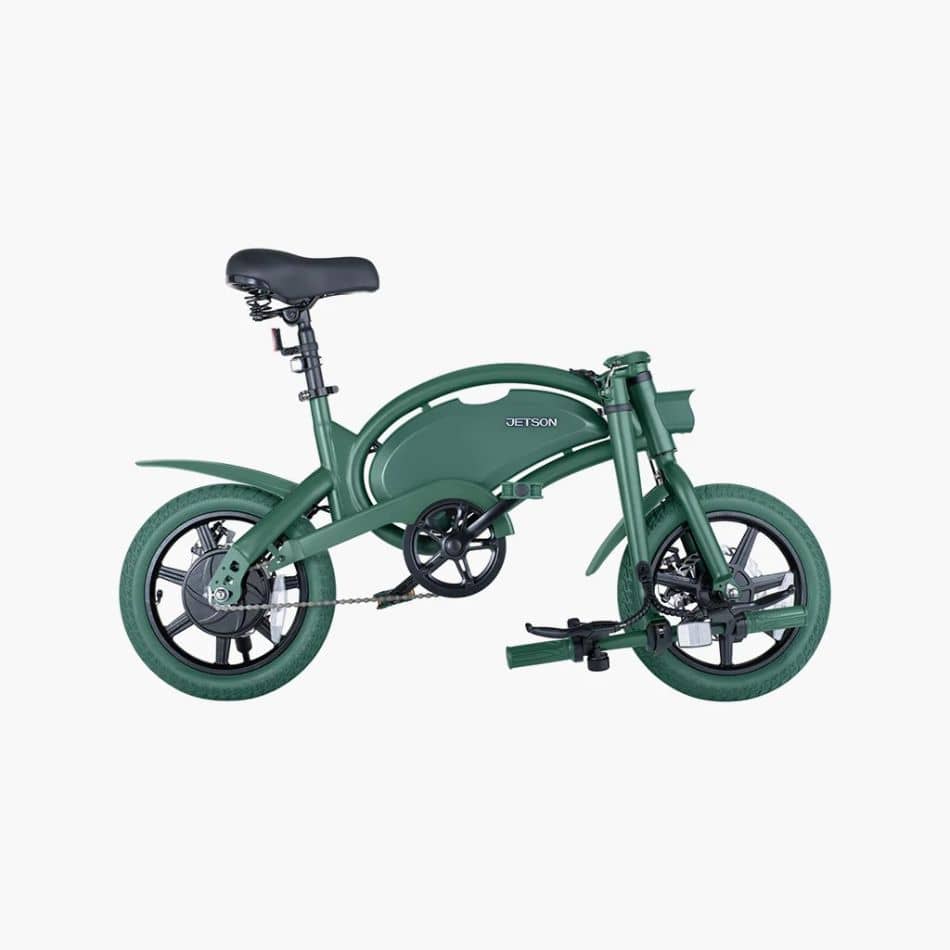 This section could also be called the Ease-of-Use rating since it also includes how easy the Bolt Pro is to assemble, carry by hand, and transport. Almost all user reviews report that the Bolt Pro is a piece of cake to assemble and only requires two tools included in the box, typically taking only around 15 minutes.
The Bolt Pro's foldability is unique because it only collapses at the handlebars— riders can also lower the seat to make it even more compact. I think this semi-fold design is a benefit because traditional frame-folding bikes can be difficult to use and make riders never actually take full advantage of the complete foldability. The extra-small 14" wheels help the silhouette remain compact.
My favorite feature is probably the integrated handle between the batter and the top tube. It's placed around the bike's center of gravity so it can be carried with one hand with proper balance— that said, the bike still weighs a hefty 42 lbs. that's lighter than other full-sized e-bikes but will still be a challenge to haul upstairs.
Key Features
Frame 3/5
The Jetson Bolt has a steel alloy frame that surrounds the battery and can fold at the steerer tube. Available in only one size, the Bolt Pro is a compact e-bike that best fits smaller or shorter riders. Tall riders will find that the seat can't be raised high enough, and their knees must bend a lot while pedaling.
Another detail I noticed is that the frame geometry places the seat directly above the rear wheel rather than a bit further forward like on standard bikes. This means heavier riders will put more force on the rear tire, and it can look squished as if it is flat or losing air. The Jetson Pro is rated for riders 12 years and older with a maximum rider weight of 265 lbs.
Motor 4/5
I rate the motor highly on the Jetson Bolt Pro because it delivers plenty of power for the bike's intended use. It engages relatively smoothly, and it's a huge plus that it can operate in both throttle and pedal assist modes. The 15.5 mph top speed works well for typical stop-and-go riding within the city grid but isn't great for faster riding on open trails or bike paths.
Riders who want to retrofit their current bike with an electric motor can do so with an electric bicycle kit. Browse our picks for the best electric bike conversion kits.
Battery and Range 3/5
For such an affordable e-bike, the battery's performance is decent, but I was expecting more. Many e-bikes on the market today boast a range of between 40-60 miles, but the Bolt Pro maxes out at 30 miles on a single charge, and that's on a good day. Many users reported less range on most rides and very slow charging.
The battery isn't removable either, so riders need to bring the entire bike inside in order to charge it, rather than locking up the bike outside and simply carrying in the battery. The bike won't take up much space inside your garage, house, or office, but the flexibility of a removable battery is ideal. The Jetson Haze features a removable battery.
Brakes 5/5
I appreciate the dual disc brakes on the Jetson Bolt Pro that deliver powerful and predictable stopping force. Ebikes can zoom fast and require brakes that are stronger than traditional rim brakes, especially in wet or humid conditions. It's not recommended to ride the water-resistant Bolt Pro in heavy rain, but at least riders can rely on decent-quality disc brakes.
Jetson Bolt Pro Full Specs
For an in-depth look at the Jetson Bolt Pro, watch this video overview of the folding e-bike.
| | |
| --- | --- |
| Frame | Steel Alloy |
| Wheels | 14" |
| Motor | 350-watt rear hub motor |
| Battery | 36V, 6.0 lithium-ion |
| Throttle type | Twist throttle |
| Pedal assist | Yes |
| Max. speed | 15.5 mph |
| Max. range | Up to 30 miles with pedal assist |
| Brakes | Front and rear disc brakes |
| Folded Dimensions (L x W x H) | 46.5″ x 19.3″ x 23 |
| Unfolded Dimensions (L x W x H) | 46.5″ x 19.3″ x 38.6″ |
| Charging time | Up to 4 hours |
| Weight limit | 265 lbs. |
| Product weight | 42 lbs. |
| Frame colors available | Blue, Green, Black |
| Price | $499.99 |
Overall Impression 7/10
At the price of the Jetson Bolt Pro, it can be difficult to purchase a standard bike, let alone an electric bike with 350 watts of power. The Bolt Pro is a great way to try out riding an e-bike without breaking the bank and can be perfect for short city trips. That said, Jetson does leave out some key features like a long-range, removable battery and slightly larger wheels.
Taller or heavier riders should look elsewhere for an e-bike, and riders who expect serious weekly mileage can seek a model with a longer range. If the Bolt Pro ticks everything on your wishlist, it's a smart investment, but I wouldn't write off browsing other compact e-bikes on the market.
Our verdict: Impressively affordable folding e-bike that's easy to carry but lacks in comfort.
Pros
Innovative frame design to make carrying the bike easier
Capable 350-watt motor with a top speed of 15.5 mph
Twist throttle and pedal assist
Easy to assemble and fold when transporting
Cons
Battery isn't removable so bike has to be carried inside to charge
Small 14" wheels are sensitive to bumps and potholes
Slow charging rate can take a while
How the Jetson Bolt Pro Stacks Up
| | | | |
| --- | --- | --- | --- |
| | Jetson Bolt Pro | Aventon Sinch | RadExpand 5 |
| Motor | 350W | 500W | 750W |
| Range | 30 miles | 30 miles | 45 miles |
| Gearing | Single-speed | 7-speed | 7-speed |
| Wheels | 14" | 20"x4.0" | 20"x4.0" |
| Price | $499 | $1,399 | $1,549 |
Similar Models to the Jetson Bolt Pro
Aventon Sinch Foldable Ebike
The Sinch is a fully-collapsible electric bike made by Aventon, one of the most popular ebike brands on the market. Unlike the Bolt Pro, the Sinch folds at the frame and has front suspension, 7 gears, and wide fat tires. The range and top speed are a bit higher at 40 miles and 20 mph, respectively. Those performance gains come at a premium, though. The Sinch costs $1,399 which is much pricier than the Bolt Pro but still a great deal for an ebike.
RadExpand 5 Electric Folding Bike
Another e-bike heavy hitter is the Rad Power Bikes brand which offers the RadExpand 5 folding electric bike. A direct competitor of the Aventon Sinch, this model boasts an impressive 750-watt motor and included rear rack. The externally mounted battery is easy to remove and charge. This model is ready for everything from rugged gear hauling to off-road adventures. The RadExpand 5 costs $1,549.
​​If you liked this article, you might also like:
Frequently Asked Questions
How long does a Jetson Bolt Pro last?
The Jetson Bolt Pro electric bike can ride up to 30 miles on a single charge. However, the battery life can vary depending on things like terrain, rider weight, and whether you're riding in throttle or pedal assist modes.
How fast can the Jetson Bolt Pro go?
The Jetson Bolt Pro has a top speed of 15.5 mph.
Can I ride my Jetson Bolt Pro in the rain?
Riding the Jetson Bolt Pro in the rain is not recommended, as it is not waterproof. Water damage can harm the bike's electronic components, including the battery.
Are folding e-bikes worth it?
Folding e-bikes can be worth it if you need a compact and portable bike for commuting or storing in a small space. They are also convenient for travel and transport. However, they may not be as comfortable as full-sized bikes and may have a limited range and speed.
Can a kid ride a Jetson Bolt Pro?
The Jetson Bolt Pro is designed for riders who weigh up to 265 pounds and have a minimum height of 4'5″. Therefore, children shouldn't ride the Jetson Bolt Pro unless they meet these requirements.
Can you pedal a Jetson Bolt?
Yes, the Jetson Bolt Pro has a pedal-assist mode, which means that you can pedal the bike while the electric motor provides assistance. The standard Bolt model is pedal-free and only has a throttle mode.
Have more questions about the Jetson Bolt Pro folding e-bike? Drop us a line below!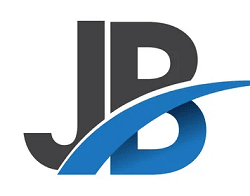 Jeffrey Brown is a writer, editor, and professional bike mechanic with over 7 years of experience working in full-service and community-based bike shops. As a bicycle educator, he has supported youth programs across the US that teach bike mechanics and life skills to prepare the next generation of cyclists.
Jeffrey began his professional mechanic career at his university bike co-op, so he recognizes the grassroots power of the cycling community. Initially self-trained as a mechanic, his subsequent positions as manager and lead educator gave him official training. He has won various awards and grants for his role as a bicycle and environmental advocate.