(Last updated on February 16th, 2023)
Mountain bikes are so much fun to ride, and there's nothing like exploring nature while ripping through trails on a decent bike. The wheel is one of the most important things on a bike and they come in all different sizes from as small as 12" wheels all the way to 36" wheels.
One of the most common wheel sizes we have in mountain biking is the 29" wheel. It's currently considered as one of the best sizes but why is the 29" wheel so good? In this article, we're going to tell all about the 29 inch mountain bike wheel, its history, the pros, and cons, alongside everything else you need to know.
What Is the 29" Mountain Bike Wheel?
Mountain bike wheels come in many different sizes. Older bikes were 26", then you got 29," and in recent years, we now have 27.5"'s. A 29" wheel is the largest current mountain bike wheel you will find on the market. It's used in many different mountain biking disciplines, such as cross-country, trail riding, and even enduro.
A 29" wheel is actually the same size as a 700c road wheel. It is referred to as a 29" because it is designed for mountain bikes and they measure using the standard system compared to road bikes which use a different measurement system. Although the same size, the 29" is internally much wider than a 700c.
A 29" wheel is made up of many parts. The rim is the piece on the outside where the tire sits and on mountain bikes typically has a very low profile. Then connected to that, the nipples and spokes which lead down to your hub in the center, where the bearings and freehubs sit.
Being made for mountain biking, 29" wheels have to be lightweight, strong, and have flexibility under impact. They are typically made of aluminum. High-performance wheels will be made of carbon fiber. You can expect a set of 29" wheels to weigh anywhere from 1kg to 2.2kg in weight without tires or inner tubes.
The History
The 29" wheel was first used in the 1980s but wasn't mainstream. It was only used by professionals for certain testing and in certain races. Companies did try to push these, but it never really caught on. Come 1999, lots of mountain bike companies started releasing bikes with 29" wheels, and a decade later, it was the majority of what riders were using and still, to this day, one of the most popular sizes of mountain bike wheels because of its ability to perform and many tire options.
What are the Pros and Cons of 29" Mountain Bike Wheels?
Like any piece of cycling equipment, it has its advantages and disadvantages. There are many reasons to pick a 29" mountain bike wheel over a 26" or 27.5," and there are some reasons why they might not be ideal.
Pros
Top Speed
The beauty of riding wheels that are a larger size is that they have the ability to hold much higher speed with less effort. The larger diameter means the momentum carries further, your gearing can take you to high speeds, and it rolls much smoother.
Roll Over Ability
29" wheels have an excellent ability to roll over obstacles much better than smaller wheels such as 27.5" or 26". This means that for situations like rolling over gravel, small rocks, or even tree roots, the bike can get over much faster, and it will feel much smoother.
Larger Contact Patch
When we speak about contact patches, we're talking about the amount of rubber on the tire that sits on the floor. With 29" wheels, the contact patch is very large, and with more contact with the ground, the more grip you will have on the floor.
Flexibility
With larger wheels, you get longer spokes, providing extra flexibility when hitting bumps. This means wheels feel excellent to ride, and you know on the big impacts, they will rebound well.
Cons
Weight
Since a 29" wheel is larger than a 27.5" or a 26", it generally weighs a little bit more. Also, if you had like-for-like tires with a smaller wheel, it would also weigh slightly more as it would require more rubber compound to travel further around the wheel.
Less Agile
Bigger wheels are better at going over obstacles, but smaller wheels are much better at going around obstacles. Smaller wheels like 27.5" are much more agile and responsive than larger wheels such as 29".
Tire Sizes Are More Limited
Typically larger wheels have less space in the frame. You will find that less you will be limited to tires up to about 2.4". When on a smaller set of wheels, such as 27.5" or 26" will generally be able to fit in a frame with larger tires on them.
They Don't Work for Everyone
29" wheels are larger, and because of this, they don't always work for shorter riders. Some bikes in smaller models will come with 27.5" wheels instead of 29" wheels. This is because larger wheels can make the bike too tall.
29 Inch Mountain Bikes
Like many mountain bikes, although they share the same wheel size, they can be designed for completely different cycling disciplines and look completely different. In this next section, we want to show you two excellent 29" mountain bikes that we highly recommend.
Salsa Rangefinder
$1,199
PROS
Lightweight
Wide range of low gearing
Great for cross country
Large Maxxis tires
Great Price
Dropper Post
CONS
Color is a bit bland
Not many descending gears
The Salsa Rangefinder is an excellent aluminum 29" bike that you will see at bike parks and on your local trails. It's a hardtail, so it only has suspension on the front. The bike is designed for cross-country racing and is made to be super lightweight and fast on light off-road terrain.
It weighs about 14kg with Shimano Deore gearing and has powerful hydraulic brakes for excellent stopping power. The 29" wheels on this bike come with large Maxxis 2.6" tires, giving it excellent control and an incredible ability to roll over obstacles quickly and efficiently. For more information check out this video.
Ghost Lector FS LC
$4,800
PROS
Lightweight
Dual Suspension
Great for Trail riding
Carbon Frame
Made of tough off road
CONS
The Ghost Lector is one of the best full-suspension cross-country bikes on the market currently. It's made of carbon fiber and incredibly lightweight. It's full suspension, so it has suspension front forks and a rear shock, both made by RockShox.
It has top-level SRAM GX Eagle gearing and comes with Ghost's own 29" wheels with Maxxis tires and boost hubs. Coming in at only 11.8kg, it's incredibly lightweight, and this is the kind of 29" bike you will see on the winner's podium. For more information check out this video.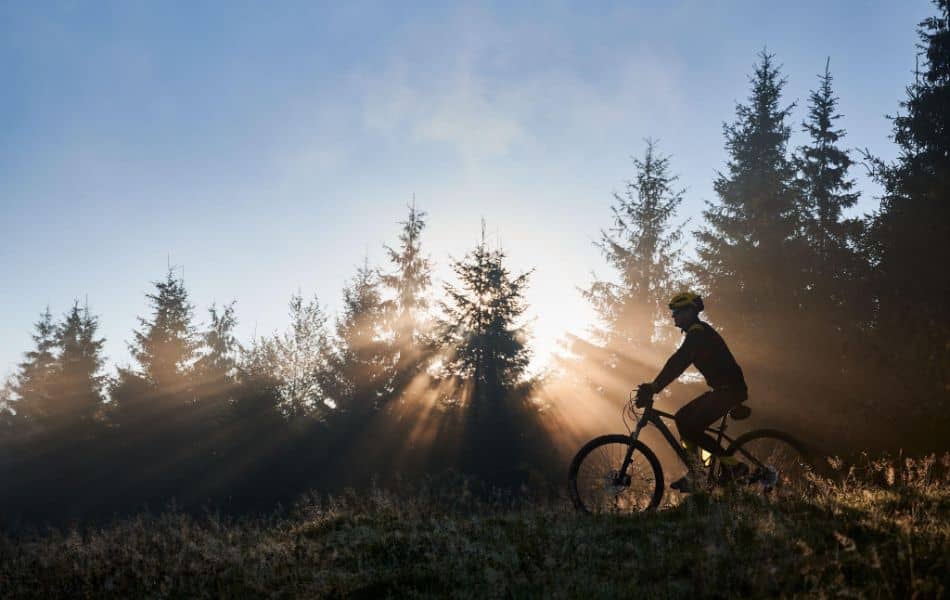 How to Find the Right 29" Bike for You?
29" bikes come in all different shapes and sizes, and finding the right one for you can be challenging. Here are the questions you should ask yourself when searching to find the right bike for you.
Discipline
Cross country, trail, enduro, and downhill, you first need to consider what kind of riding you will be doing. Once you know the riding you want to do, get a 29" bike which is going to have the ability to help you conquer the trails you have planned.
Budget
There is a lot of choice of 29" bikes you can choose from, find out what your budget is and then look for bikes that fall into that price range. Don't be shy of a cheap bike, as you can have just as much fun. They just might not be as fast.
Size
You might have found the perfect bike for you on your travels, but you need to ensure it's the right size for you. We highly recommend not compromising on the size as it will make the ride uncomfortable. Another thing to look out for is to check the wheel size on smaller bikes because sometimes they drop them to 27.5" for smaller riders.
Brand
We also recommend going for a reputable brand. The reason why brands like Giant, Trek, and Specialized are so popular is because they make great bikes. The same goes for components getting gearing from top brands such as Shimano, SRAM, or Campagnolo will last longer, be more reliable, and give you a much better experience while out on the trails.
Warranty
When looking for a 29" bike, you always have the option to go secondhand, but this does come with lots of risks, such as the bike could have issues working correctly, been dropped often, or even. Unlike when you buy a new bike, you know it will be perfect, it will come with a warranty, and many shops offer a free first service.
Who Is a 29" Bike For?
A 29" bike is ideal for many riders. They have certain characteristics which benefit certain types of riders. The first thing to mention is 29" wheels being large to suit taller people. Larger wheels generally work better for taller people as they help the bike's geometry for a larger rider.
29" bikes, as we discussed before, also are great at rolling over objects better than going around them. This makes them perfect for XC racing and lighter trails at higher speeds. The best mountain bikers in XC generally ride 29" wheels as they are very efficient and make the work easier.
Another great feature of a 29" bike is that it is excellent at higher speeds compared to a 27.5" bike or a 26" bike. So if you are riding on flats or plan to be going at higher speeds, you will have a much easier time using a bike with 29" compared to a bike with smaller wheels.
Conclusion
When people started seeing 29" bikes on the cycling scene, they saw them as a passing fad, but over time, they grew to be one of the most popular wheel sizes that have ever come to mountain biking, and we won't see it going away anytime soon.
Frequently Asked Questions
What is the advantage of 29-inch wheels on a mountain bike?
They are excellent at rolling over obstacles and also much better at going higher speeds than smaller mountain bike wheels.
What height is a 29" bike good for?
They say a 29" bike is good for anyone above the height of someone above 5ft 6". Any smaller 26" or 27.5" is probably better.
What's better, a 27.5" or a 29"?
The 29" is better at higher speeds and rolling over obstacles; the 27.5" is better at working around obstacles and acceleration.
Is it easier to climb on 29" wheels?
On very rough rocky terrain, a 29" wheel will have a better attack angle than a 27.5" wheel. On smooth climbs, there's little difference.
What is more popular, 27.5" or 29"?
They are both very popular, and both have slightly different abilities compared to each other. There's a varied mix of both wheel sizes on the market.
I'm Robbie Ferri, a writer from Norfolk in the UK. I love cycling, the gym, and have a huge passion for sharing my stories and knowledge to anyone with the time to read them. My main passion is cycling. I started eight years ago. In that time I have broken world records, cycled all over the world in Ultra Bikepacking races, and am lucky enough to have enjoyed some incredible times on two wheels with some incredible people. I have also worked in a bike shop and with some of the industries leading brands, not just promoting products but designing them too.
Under it all I am just someone very passionate about exploration and living a healthy lifestyle. Everything I do I put 100% into it and feel that life is for living. Never should you have a dull day.