(Last updated on April 3rd, 2023)
Electric mountain bikes take the sting out of climbs so you can spend more time ripping down descents and enjoying the trails. Ebike technology has made leaps and bounds over the past few years, and there are plenty of quality, affordable models to choose from. I've done the heavy lifting for you and selected several of the very best eMTBs that can assist you on steep inclines and carry you to more remote routes. Keep scrolling to get the inside scoop on modern electric mountain biking on a budget.
Wallet-Friendly eMTBing
Thanks to all of the recent innovations in the bicycle industry, electric biking is more accessible than ever. Even electric mountain bikes, which often have some of the most complicated components to be trail-tough, are available at competitive prices. That said, some riders accustomed to the prices of standard bikes might experience a bit of sticker shock.
There are two main types of budget electric mountain bikes in the current market.
1. Entry-Level "Off-Road" E-Bikes
The first are entry-level models that I would classify as "off-road bikes". They are a bit pared down compared to dedicated MTBs but come with the classic MTB features such as wide tires, front suspension, and big-range gearing. Relevant brands include Rad Power Bikes, Ancheer, and Himiway.
They are heavily marketed as "mountain bikes" but aren't actually designed for fast singletrack or big jumps. However, they do great on light terrain, dirt paths, and traversing between pavement and the rougher stuff. They are priced from $2,000 to $4,000.
2. Dedicated eMTBs
The second category includes the affordable models of dedicated electric mountain bikes with all the hard-hitting capabilities you'd expect from trail-munching machines… plus, there's a high-powered motor. These bikes can do everything high-end standard mountain bikes can do and more since they have mid-drive motors to tackle the steepest of climbs. This category is well represented by big brands such as Trek, Specialized, Santa Cruz, Canyon, and Giant.
With those name-brand manufacturers comes a higher price tag, but the significant increase in cost is justified considering all these bikes have high-performance mid-drive motors rather than less effective hub-drive systems. Mid-drive motors sit between the pedals, and since the extra weight sits low and central on the bike, the center of gravity is as close as possible to that of standard mountain bikes, making it handle much more naturally out on the trails.
These bikes are priced between $4,000 and $6,000, much cheaper than their high-end sibling, which can easily cost more than $10,000.
How I Picked the Best Budget Electric Mountain Bikes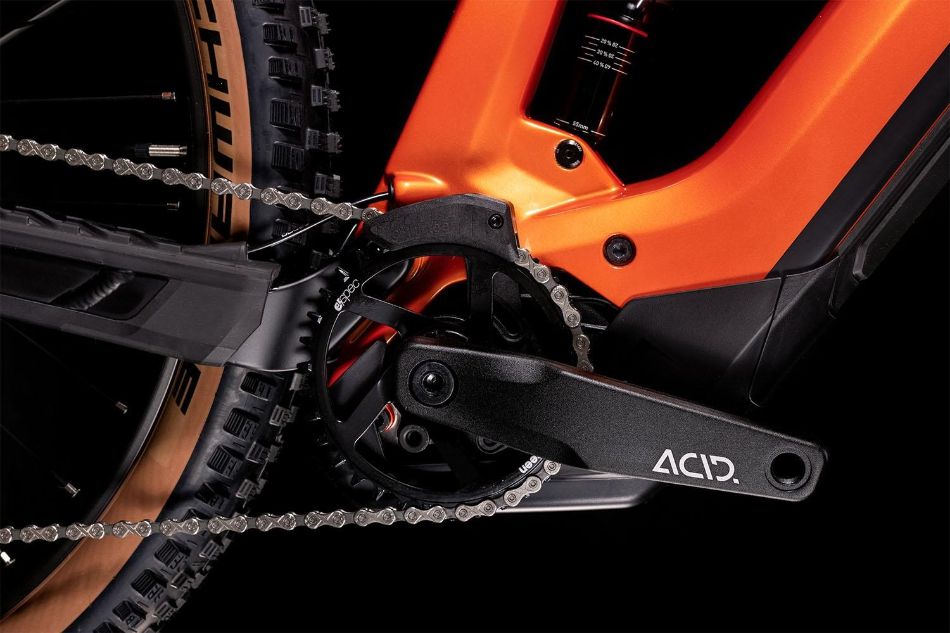 The competition between brands for the best eMTB is getting increasingly close as more manufacturers enter the market and create their own models. Many of those models are not worth your hard-earned cash since they are more about the biking fad rather than quality design and trail capabilities.
I've considered dozens of brands and numerous models and finalized my selection of eMTBs that I think are well worth the money. The models reviewed below span various price points and have different features to match your unique riding style. I also made sure to include bikes from popular brands that are widely available either online or at your local bike shop.
My research is based on manufacturer specs, expert opinion, and numerous user reviews, resulting in a well-rounded impression of how the bike and its electric motors perform out there in the big bad world of mountain biking. Here are the specific criteria I used while judging these models and calculating an overall score:
Trail Performance
The best eMTBs have the same trail capabilities as standard, non-motorized models, including responsive handling, plush suspension, and grippy tires. Extra watts shouldn't sacrifice on-mountain performance.
Motor
A quality motor means plenty of torque, reliable internal components, and smooth acceleration (ideally due to a torque sensor).
Battery
Name-brand components are a plus here since we know they are worth it and rigorously quality-checked so the battery can go the distance.
Price
With so many bikes on the market, deals are to be had. I chose bikes that are an excellent overall package with an affordable price tag to match.
Compare the Best Budget eMTBs at a Glance
| | | | | | | | |
| --- | --- | --- | --- | --- | --- | --- | --- |
| Model | Takeaway | Motor | Travel | Battery | Rating | Price | Where to buy? |
| Haibike ALLMTN 3 | Best Overall eMTB | Bosch Gen4 Performance CX 250W | 160/150mm | 625 watt hours | 9.5/10 | $4,639.93 | Check price |
| Trek Powerfly 4 | Best Short-Travel eMTB | Bosch Performance CX 250W | Front 120mm | Bosch Powertube 500Wh | 9/10 | $3,849.99 | Check price |
| Co-op Cycles CTY e2.1 | Best eMTB for Reliability | Shimano E5000 250W | 75mm front | Shimano E8014 36V/418Wh battery | 8.5/10 | $1,438.93 | Check price |
| RadRover 6 Plus | Best eMTB on a Tight Budget | Rad Power 750W rear hub-drive | 60mm front fork | 589-672Wh | 8.5/10 | $1,999 | Check price |
| Cube Stereo Hybrid 140 HPC Pro 625 | Best Budget Race eMTB | Bosch Performance CX G4 | 140/140mm | 625Wh Powertube | 9/10 | $5,799 | – |
Best Overall eMTB
1. Haibike ALLMTN 3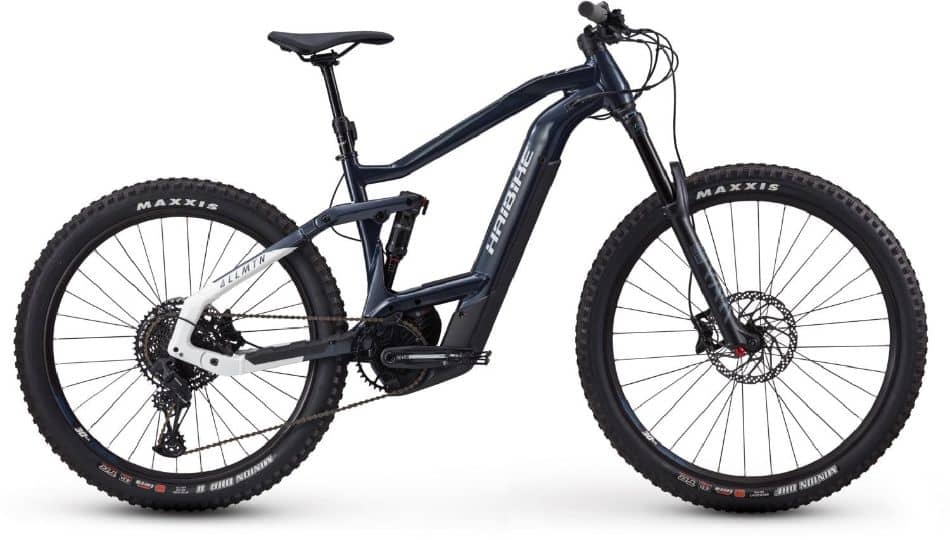 KEY SPECS
| | |
| --- | --- |
| Travel | 160/150mm |
| Motor | Bosch Gen4 Performance CX 250W |
| Battery | 625 watt hours |
Pros
Enduro build
Large disc brake rotors
Mullet wheelset
Cons
Not the latest Shimano motor
The Haibike ALLMTN 3 is the perfect entry point into the world of electric mountain biking because of its competitive price and a high-quality build that'll provide years of fun on the trails. Trusted brand Haibike makes all the right commentary decisions to put together great parts while staying within budget.
This generation of the ALLMTN 3 tucks the high-capacity 625Wh battery completely within the frame for a sleeker look. Rated as an enduro model, there is a slack head tube angle and steep seat angle for aggressive handling downhill. If you need more juice, there's the optional Haibike Range Extender, an external battery that helps you cover more distance.
One special characteristic is the ALLMTN's mullet wheelset, meaning the front wheel measures 29" while the rear diameter is 27.5". This mixed setup combines the best of both worlds, lowering the front wheel's angle of attack on obstacles and preserving agility at the rear of the bike.
At the heart of this ebike is the Bosch Gen4 Performance CX 250W motor, which provides super reliable power and a great range from the battery. The motor isn't the most powerful but should get you up most hills with ease. This detail dropped my rating by half a point, but this ebike is a true trail-shredding machine.
The ALLMTN 3 is rated as a Class 1 ebike, meaning it provides pedal assistance up to 20 mph. That should be appropriate for almost all of your local trails, even the routes that have ebike speed or power restrictions. I appreciate the integrated dropper post for on-the-fly adjustment, too. Enjoy this Haibike offering with full-suspension and motorized assistance— it's the best of both worlds.
OUR VERDICT
Mullet-wheelset electric mountain bike with full suspension specs at a competitive price.
Best Short-Travel eMTB
2. Trek Powerfly 4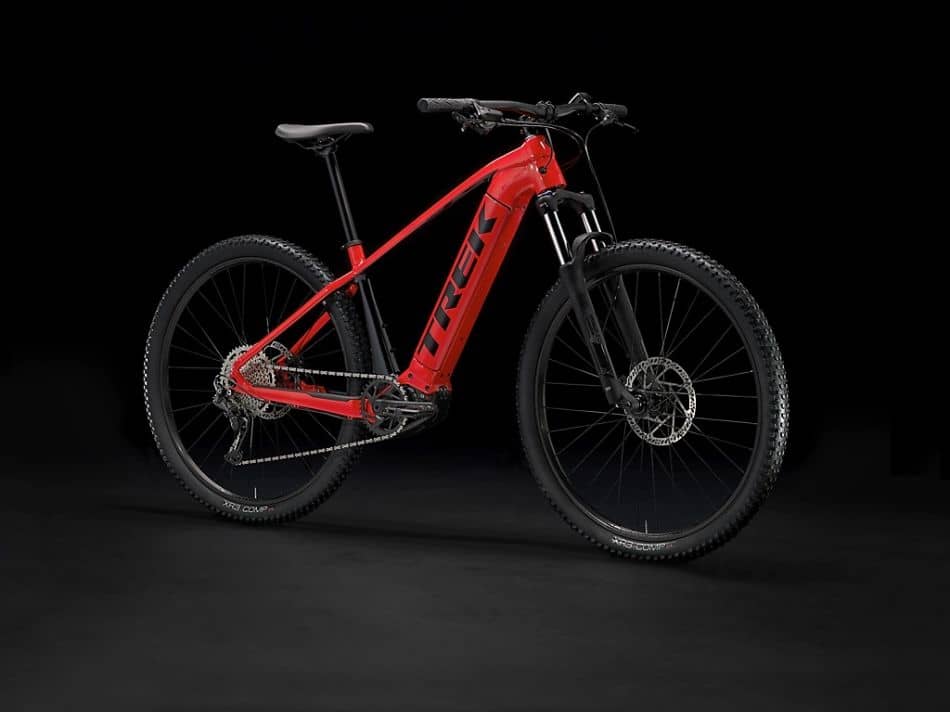 KEY SPECS
| | |
| --- | --- |
| Travel | Front 120mm |
| Motor | Bosch Performance CX 250W |
| Battery | Bosch PowerTube 500Wh |
Pros
Bosch Performance CX motor
Large 29er wheels
Great price
Cons
Short front 100mm travel
No rear suspension
The Powerfly 4 is Trek's most affordable mountain bike, equipped with a reliable Shimano drivetrain and Bosch 250W motor. Technically a short-travel hardtail, the front suspension fork provides 100mm of travel and there's no rear suspension. These modest specs make this MTB a great all-rounder that feels at home on the trails and dashing through city streets— it could make the ultimate commuter, too!
Trek is one of my favorite brands because of its fantastic offerings and dedication to innovation since their humble Wisconsin beginnings. The Powerfly is driven by a Bosch Performance Line CX motor with up to 85 Nm of torque and an intelligent eMTB mode. Like the ALLMTN 3, there's an optional Removable Integrated Battery (RIB) to extend rides.
The Powerfly is also available in a full-suspension version for riders who need additional travel on the most demanding routes. The model has size-specific wheelsets for a better fit based on rider height. Size XS and S frames come with 27.5" wheels while the larger frames have 29" rims.
Smart details in the drive unit include a walk mode and an intelligent eMTB setting that automatically adjusts the amount of power that's optimized for the terrain. At the end of the day, the hardtail design may limit where you can explore, but if you stick to tamer routes, the Powerfly is a sure bet. I would love to have a bit more travel so I can't give this bike a perfect 10, but it's close to mountain-top perfection.
OUR VERDICT
Reliable and versatile hardtail electric mountain bike with an excellent Bosch drive unit. 
Best eMTB for Reliability
3. Co-op Cycles CTY e2.1
KEY SPECS
| | |
| --- | --- |
| Travel | 75mm front travel |
| Motor | Shimano E5000 250W |
| Battery | Shimano E8014 36V/418Wh battery |
Pros
Reliable Shimano E500 motor
Quality components and agile 27.5" wheels
Excellent value priced under $1,500
Cons
Very short 75mm front suspension fork
No dropper post
REI's in-house brand Co-op Cycles is known for their excellent value and the CTY e2.1 electric mountain bike is no exception. This is another solid entry-level eMTB that boasts quality components and still clocks in at an affordable price point. On sale now for under $1,500, few electric mountain bikes can compete with such a great deal.
This model is a short-travel hardtail ebike with a Suntour MOBIE-A32 fork offering just 75mm of front suspension. This is about the minimum cushion for a mountain bike, limiting the CTY e2.1 to smooth trails and city streets. The extremely short suspension lowers my rating but for versatile riders and commuters, this could be the ultimate all-rounder.
The Class 1 categorization means this bike operates in pedal assists up to 20 pmh. The motor is a Shimano E5000 250W with 40 Nm of torque that hooks up to a Shimano E8014 418Wh battery pack. Unlike other fully integrated models on this list, the battery is semi-integrated into the downtube. Some riders may want a more seamless look, but I don't mind the appearance.
Overall, it's hard to beat a Co-op ebike due to its impressive versatility offered at a great price. It's a bike that can attack your local dirt trails and the frame-integrated rear rack comes ready to assist on errands around town. I would love to see a dropper post and some more robust tires for the price, but if you are just starting out with mountain ebiking, the Co-op CTY e2.1 is a no-brainer.
OUR VERDICT
Electric bike with integrated rear rack and entry-level specs, offered at a solid price.
Best eMTB on a Tight Budget
4. RadRover 6 Plus
KEY SPECS
| | |
| --- | --- |
| Travel | 130mm |
| Motor | Rad Power 750W rear hub-drive |
| Battery | 589-672Wh |
Pros
Super affordable
Included throttle mode
Cons
Hub-drive instead of mid-drive
No rear suspension
The Rad Rover 6 Plus has taken the bike world by storm as one of the most affordable electric mountain bikes, complete with quality components and trusted brand support. This model isn't a full-blown eMTB like the other bikes on this list but is rather an off-road capable ebike for riders who traverse a variety of terrains. The hardtail setup and wide tires perform just as well on light trails as city streets— the 6 Plus can double as a commuter as well as a weekend joyride machine.
If you are on the hunt for a multipurpose ebike instead of a dedicated trail-smashing ebike, the Rad Rover 6 Plus is the best in its class. The recently upgraded semi-integrated battery refines the look over a fully externally mounted battery pack, and there's a throttle mode for extra fun.
However, there are still some downsides to this entry-level electric mountain bike. Unlike the other bikes on this list, the Rad Rover 6 Plus utilizes a rear hub motor instead of a mid-drive unit. This means there's a significant amount of extra weight at the back end of the bike, throwing off the bike's balance. This can encourage a fun, zippy ride feel but isn't as good for technical handling down the slopes.
The lower quality motor and short-travel suspension cause me to lower my rating by two points, but it's still an impressive package that's loaded with useful features. Traverse your local trails or complete daily errands with this— as Rad Power Bikes puts it— beast of a bike. For the price, this workhorse can't be beaten.
OUR VERDICT
Affordable electric mount bike that can double as a daily commuter.
Best Budget Race eMTB
5. Cube Stereo Hybrid 140 HPC Pro 625
KEY SPECS
| | |
| --- | --- |
| Travel | 140/140mm |
| Motor | Bosch Performance CX G4 |
| Battery | 625Wh Powertube |
Pros
Bosch Performance CX G4 motor
Amazing components
RockShox suspension
Cons
Not the most robust of tires
On the pricier side
To my eye, the Cube Stereo Hybrid is the best-looking eMTB on this list and comes with excellent components all across the bike. I remember the Cube brand as one of the first manufacturers producing high-performance electric mountain bikes, and they have perfected that tradition with this model, outfitted with aesthetic tan sidewall tires, Bosch CX motor, and sleek frame geometry.
The suspension package is superior to its rivals and features a RockShox 35 Silver fork and RockShox Deluxe Select rear shock with 140mm of travel on each. This setup takes the cake for the highest-end suspension package on this list so you can smash any descent with confidence. eMTB racing is becoming more popular and this is a great option for chasing the enduro podiums.
The mechanical components on this trail machine include Shimano Deore 1×11-speed gearing and Magura MT Thirty hydraulic disc brakes with four-piston calipers. That's plenty of performance to get you up the toughest climbs and stay in control on the fast downhill sections.
Riders will have to open their wallet a bit wider to afford the Cube Stereo Hybrid, but it's a rare opportunity to get your hands on such innovative tech. The bike is called a hybrid not because of its intended use but, rather, due to the two-part frame. The main frame triangle is made from advanced twin-mold carbon fiber while the rear triangle is constructed from 6061 aluminum.
Finally, we have a bike with a dropper post! No bike can be perfect, though, and I have to lower my rating by a point because of the slightly high price tag. This offering from Cube ticks all the boxes and more for riders looking to make a worthwhile investment in a great eMTB.
OUR VERDICT
High-end electric mountain bike with killer suspension specs and hybrid frame construction.
Budget Electric Mountain Bike Buyers' Guide
Buying a new eMTB can be a big decision, so it's important to select the right bike for you with the most appropriate features for your riding style. I'll break down the simple steps of finding the perfect electric mountain bike, starting with the initial decisions that will help narrow down your choice to a more manageable quantity.
Hardtail or Full-Suspension?
The easiest way to start honing in on your ideal mountain bike is to decide whether you want a hardtail model or a full-suspension setup. These different suspension options make a huge impact on the trails and are also a visible difference between models that can make browsing on the web a bit more efficient— most websites allow you to sort by these two categories, too.
Hardtail eMTBs are designed for lighter terrain and are less expensive than full-suspension builds that come with a rear shock. If you are looking for a comfortable setup that can also go off-road, a hardtail eMTB will give you plenty of performance. Full suspension is the right choice if you are a dedicated trail shredder who wants to explore serious MTB routes.
Motor and Watts— What Does it All Mean?
The next important factor is the electric motor. I highly recommend mid-drive motors over hub-drive motors for mountain bikes since they preserve the natural low center of gravity crucial to responsive handling on the trails. Hub-drive motors add a significant amount of weight to the rear end that can throw off the balance you are used to on standard bikes.
The higher the watts, the greater the power output of a motor. This is critical for getting up to speed quickly and maintaining a top speed. Another aspect to check over is torque— more torque allows the motor to work efficiently under strain (think: steep climbs or in tough conditions like mud or sand).
Battery and Range
eMTBs also vary in the distance they can travel on a single charge. If you frequently go on long rides or expect to use the higher power settings on the motor, you're better off getting the biggest you can, something above 500Wh or approaching 20Ah. For riders who mostly use the lower pedal-assist levels, the range is less of a problem, and most models will last a full day.
Accessories
One of the most interesting parts of eMTBs is their tech-savvy accessories and finishing touches. Accessories are, well… accessories, so they aren't exactly necessary, but they can make a big difference to the ride experience. For example, some ebikes have apps to track your rides and customize your bike's settings. Others come with integrated front and rear lights connected to the battery, so you'll always have charged lights.
Frame and Wheel Size
Last but not least, pick the correct frame and wheel size according to your height. Check out the frame size chart below for a rough estimate of the frames that will fit your measurements, but it's best practice to review the manufacturer's own chart that's calculated for the specific bike you are interested in.
Wheel size is also related to rider height, but is a bit looser with the rules. Smaller 27.5" wheels work better for shorter riders, but plenty of petite cyclists run 29ers. Large 29" hoops allow for higher speeds over bigger obstacles but don't feel as zippy and agile as their 27.5" siblings. Wheel choice depends on your height and riding style, so I suggest getting on a few bikes and testing riding them if you can!
Electric Mountain Bike Size Chart
| | | | | | |
| --- | --- | --- | --- | --- | --- |
| Height (ft/in) | Height (cm) | Leg inseam (inches) | Leg inseam (cm) | Suggested Frame Size (in) | Suggested Wheel Size |
| 4'10 – 5'3″ | 147-160cm | 25 – 28″ | 62-70 cm | 13 – 14″ | 26″ |
| 5'4 "- 5'7" | 160 – 170cm | 25 – 30″ | 63 – 76 cm | 15 – 16″ | 27.5″ |
| 5'5″ – 5'9″ | 165 – 175cm | 26 – 31″ | 66 – 78 cm | 16 – 17″ | 27.5″ |
| 5'9″ – 6'0″ | 175 – 183cm | 27 – 32″ | 68 – 81 cm | 17 – 18″ | 27.5″ |
| 6'0″ – 6'3″ | 183 – 190cm | 28 – 33″ | 71 – 83 cm | 18 – 19″ | 29″ |
| 6'1″ – 6'6″ | 190 – 200cm | 29 – 34″ | 73 – 86 cm | 19″ + | 29″ |
Frequently Asked Questions
Which company is best for an electric bike?
While no single company can claim that title, some stand-out brands include Giant, Canyon, Vitus, Cube, and Rad Power Bikes. They have been in the ebike game for a while, and each offers a wide range of electric mountain bikes that appeal to many riders and are readily available.
Can you mountain bike with an electric bike?
Yes, but you should double-check your local laws and see if certain trails are closed to ebikes. Class 2 and Class 3 ebikes are the most powerful categories and have a throttle mode, but Class 1 pedal-assisted models are allowed on most trails these days.
Are electric mountain bikes worth it?
o matter your reason for thinking about getting an ebike, they come with tons of advantages. The main one being you'll receive extra assistance when you need it to climb steep hills and reach remote destinations. The motor hikes up the price but will allow you to keep up with stronger riders and enjoy more of the mountain.
What are the disadvantages of electric bikes?
The main disadvantages of electric bikes are the higher price and added weight of the motor and battery. All that technology added to the bike understandably spikes the price but also brings some serious benefits. The heavy motor and battery can also alter the balance and the bike's handling.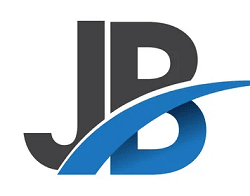 Jeffrey Brown is a writer, editor, and professional bike mechanic with over 7 years of experience working in full-service and community-based bike shops. As a bicycle educator, he has supported youth programs across the US that teach bike mechanics and life skills to prepare the next generation of cyclists.
Jeffrey began his professional mechanic career at his university bike co-op, so he recognizes the grassroots power of the cycling community. Initially self-trained as a mechanic, his subsequent positions as manager and lead educator gave him official training. He has won various awards and grants for his role as a bicycle and environmental advocate.