(Last updated on April 19th, 2023)
You can get your fitness fix in many different ways, such as cycling, running, swimming, and even boxing. There have been some great new ways to exercise coming into the fitness industry, and it's an exciting time.
In the past decade, one piece of equipment that continually grows in popularity is outdoor elliptical bikes. This is an outdoor elliptical bike!
An elliptical bike is like a bicycle, but instead of pedaling on it, you run on it instead, like you would use a cross trainer. They come with many benefits, and now many companies are making their own versions.
In this article, I will discuss the following:
What Are The Benefits Of An Elliptical Bike?
What Do I Look For In The Best Outdoor Elliptical Bike?
Our Best Outdoor Elliptical Bike Recommendations
Best Outdoor Elliptical Bikes Buyers Guide
What are the Benefits of an Elliptical Bike?
Many exercise enthusiasts don't know that elliptical bikes come with many benefits compared to other forms of exercise. You need to know that
Low Impact
Elliptical bikes are very low-impact. Unlike running, it doesn't cause a heavy impact on the joints. This means it's ideal for people who suffer from joint problems or don't like the feeling of a heavy load on the joints.
Low Mobility
Riding an elliptical bike doesn't require much mobility. It makes it an ideal exercise if you suffer from low mobility or have tight joints due to previous injuries. Many people turn to elliptical bikes as it just feels much better.
Very Comfortable
Elliptical bikes offer an incredibly comfortable ride. Not only is the standing position very natural, and because it is a walking motion, the flow feels incredible. It means you are not in aggressive positions and don't need to stop constantly.
Different and Fun
Riding an elliptical is very fun, and it's completely different. You often get stopped, and people ask questions all the time. It also offers the variety many people seek to break up their fitness routines.
Fast and Goes Far
Elliptical bikes are amazing when it comes to going quickly and offer the ability to go far. I highly recommend them if you want to find those hidden-away cafes miles off the beaten track. There are many other health benefits too.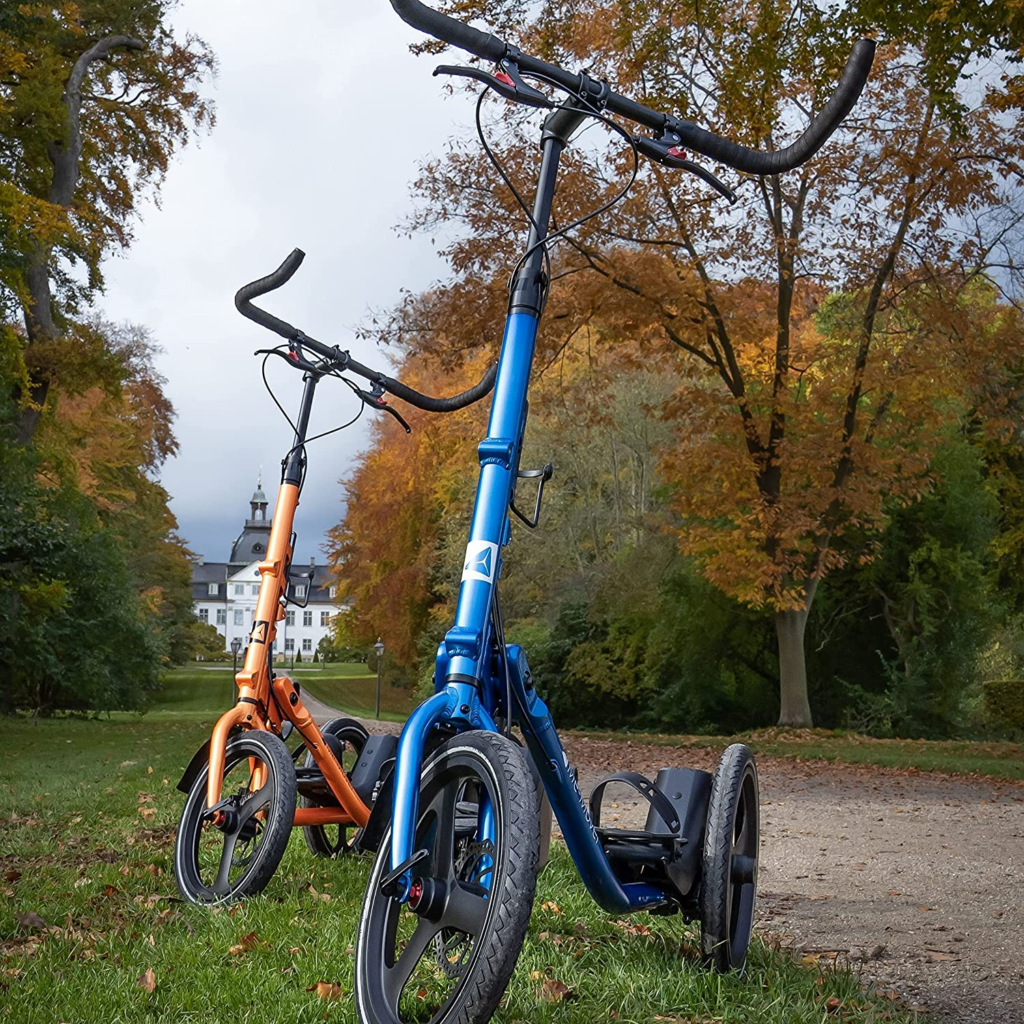 What Do I Look for in the Best Outdoor Elliptical Bike?
Finding the right elliptical bike for you is very challenging. As someone who knows much about cycling and bikes, I know strictly what to look for. Here's what I look for when finding the best outdoor elliptical bikes.
High Quality
I want elliptical bikes which are very high quality, and that are not just going to work excellently but last for many years of service.
Great Design
I look for ellipticals with excellent design. I want an elliptical to look fantastic and also be very functional. Only the best ellipticals can do both, which are in our recommendations.
Wide User Range
I want ellipticals that work with many users. They should be able to fit people of all shapes and sizes. The whole family can use the best outdoor elliptical bikes. Generally, they are one size fits all, as discussed by ElliptiGO.
Value for Money
When looking for ellipticals, I look for great value. I want to know if it is worth whatever money you are spending. I only recommend ellipticals that I believe are worth spending money on.
Special Features
Elliptical bikes can come with some incredibly special features. I look for the best outdoor elliptical bikes with the best special features. The special features can make the cycling experience the best for the rider.
Our Best Outdoor Elliptical Bike Recommendations
| | | | | | | | |
| --- | --- | --- | --- | --- | --- | --- | --- |
| Bike | Frame | Gearing | Brakes | Wheels | Weight | Price | Rating |
| ElliptiGO MSUB | Aluminum | 10-Speed Gearing | Disc Brakes | 27.5" | 14kg | $1900 | 9/10 |
| ElliptiGO8C Long Stride | Aluminum | 8-Speed Gearing | Disc Brakes | 20" | 19kg | $3000 | 9/10 |
| Me-Mover Speed Pro | Aluminum | One Speed | Disc Brakes | 16" | 29kg | $2265 | 8/10 |
| ElliptiGO RSUB Road | Aluminum | 8-Speed Gearing | Disc Brakes | 29" | 14kg | $1499 | 8/10 |
| ME-MOVER Fit Folding | Aluminum | One Speed | Disc Brakes | 12" | 39kg Inc Trainer | $2320 | 7/10 |
Best for Off-Road
ElliptiGO MSUB
KEY SPECS
| | |
| --- | --- |
| Frame | Aluminum |
| Gearing | 10-Speed |
| Brakes | Disc Brakes |
| Wheels | 27.5" |
| Weight | 14kg |
| Bike Type | Off-Road |
PROS
Great on trails
Lightweight at only 14kg
27.5" wheels are the perfect size
Lots of tire choices
The price is excellent at $1799
Disc brakes are ideal for off-road riding
CONS
Laggy on the road
Not the easiest thing to ride off-road
If you want an Elliptical with which you can hit a trail and have some fun, the MSUB is the ideal solution. This elliptical bike has some incredible ability, and it is a huge amount of fun to take on a trail and is equipped to do so.
The aluminum frame comes in three different colors and is designed to be strong and be able to take on challenging trails. It comes with a set of suspension forks ideal for lumpy roads and offer a completely different experience from your typical mountain bike. The MSUB is incredibly light at only 14kg, knowing it comes with suspension forks and large tires.
It comes with 10-speed gearing giving you a wide range so you can easily get up and down hills and have that extra grip on loose terrain. It, of course, has disc brakes to stop you on those extra muddy trails.
It comes with 27.5" mountain bike tires. These are off-road tires, and when it comes to you needing to replace them, you have a vast amount of options to choose from. The tires will be laggy on the road, but they are exactly what you need off-road.
OUR VERDICT
The MSUB is the best elliptical for off-road riding. Nothing else I have on this list could match it on a trail. It's a very fun elliptical to ride off-road, although it might take some time to get used to compared to a normal mountain bike. Coming in at only $1900, it's also very cheap, and I think as far as value for money goes, it's ideal.
Best for Stride
ElliptiGO 8C Long Stride
KEY SPECS
| | |
| --- | --- |
| Frame | Aluminum |
| Gearing | 8-Speed |
| Brakes | Disc Brakes |
| Wheels | 20" |
| Weight | 19kg |
| Bike Type | Road, Light Off-Road |
PROS
A long stride is ideal
Fairly lightweight
Internal hub gearing makes climbing easy
Disc brakes for stopping power
Multiple position handlebars
It can be attached to a trainer
CONS
Not cheap at $3000
It takes up a fair amount of room
ElliptiGO is not shy of bringing us some epic elliptical bikes, and probably our favorite of them all is the 8C Long Stride. This elliptical looks the part and can perform and is packed with great features that will make your cycling experience special.
The aluminum frame is much longer than the others on this list, and although it is much larger, that doesn't reflect in the weight. Coming in at 19kg, it's not heavy, and with all the weight low down, it is easy to control. It's also very adjustable and can work with many users.
With the long stride, you get much more leverage, making it feel like you have much more ability. However, this elliptical bike doesn't look like it has gears it does. The gearing is an 8-speed internal hub gearing system, which is excellent, and with that long stride, no hill or descent is an issue.
It comes with 20" wheels which are ideal for the frame. You also get disc brakes, and you will need them as this bike can pick up speed very easily and is very fast. I love that you get multiple positions on the handlebars for control too.
Another great feature is that you can also buy an indoor trainer attachment. It means you can use it all year round, no matter the weather. You can find all the details here on the ElliptiGO website.
OUR VERDICT
ElliptiGO has really outdone itself with the 8C. Not only does it work fantastically and is incredibly functional, but it also comes with disc brakes and hub gearing. It can even be used on a trainer. The only thing that will be an issue for many is the size, as it is fairly large.
Best for a Dynamic Ride
Me-Mover Speed Pro
KEY SPECS
| | |
| --- | --- |
| Frame | Aluminum |
| Gearing | Single Speed |
| Brakes | Disc Brakes |
| Wheels | 16" |
| Weight | 29kg |
| Bike Type | Road, Light Off-Road |
PROS
Comes in many different colors
Disc Brakes stop you fast
Leaning features dynamic riding
Excellent for beginners
Can be ridden on light off-road terrain
Good value for money
CONS
Not the lightest bike here
Single speed gear
The second Me Mover on this list but very different from the others. This is the Me Mover Speed Pro. If you love the three-wheel design and the dynamic leaning style but want to go fast, this is the elliptical bike for you.
The Me Mover Speed Pro is made of aluminum and is designed to be lightweight and strong. The Speed Pro comes in many different colors. It has the ability to fold up, which is a huge advantage for traveling and saving yourself space at home. Coming in at 29kg, it isn't the lightest bike, but there's a lot more to it than others on this list.
The bike is single-speed geared, but unlike the Me Mover Fit I discussed earlier, it is geared much higher. So perfect if you live in flatter terrain, I wouldn't say this is ideal. Suppose you live somewhere very hilly, not so much. You get disc brakes with this elliptical bike too, which are great for stopping quickly and if you ride in all weather conditions.
Being a three-wheel bike and having the ability to lean does make this an incredibly fun ride, and cornering is a lot of fun. I also love the stability of the three wheels making this great if you are new to using an elliptical.
The wheels on the Speed Pro are 16" wheels making this elliptical better for higher speed but also keeping it nimble and agile. You are limited on tire choice options when it comes to replacing them, but it's not something you will often be doing.
OUR VERDICT
The Speed Pro offers a great elliptical bike experience. Not only does it look great and come in many different colors, but it's ideal if you want something for beginners and a little more fun and dynamic. Coming in at $2265, it's not the cheapest, but it has value for money.
Best for Road Cycling
ElliptiGO RSUB
KEY SPECS
| | |
| --- | --- |
| Frame | Aluminum |
| Gearing | 8-Speed Gearing |
| Brakes | Disc Brakes |
| Wheels | 29" |
| Weight | 14kg |
| Bike Type | Road |
PROS
Strong bright orange color
Easy to ride with larger wheels
Disc brakes offer great stopping power
The price is excellent at $1499
Shimano gearing makes it great for hilly rides
Lightweight at 14kg
Lots of tire options when they need replacing
CONS
Not ideal for mixed terrain
Color isn't for everyone
If you're looking for an elliptical for road riding and want to have a lot of fun at high speeds, look no further than the ElliptiGO RSUB. ElliptiGo is one of the biggest brands when it comes to elliptical bikes, and I can see why they tick a lot of boxes for us.
Starting with the frame, which is made of lightweight aluminum. It's as fast as it looks and offers an excellent ride for smooth roads and cycle paths. All the weight is low, so this bike is easy to control and helps you keep it balanced at all times.
Unlike the elliptical above on the RSUB, you have a gearing system. This is exactly the same as a mountain bike gearing system and comes from Shimano, so you know it's top quality. You have gears to get up to steep inclines and the right gears to get you down quickly. It works on trigger shifters and is very easy to use.
With its large 29" (700c) road bike wheels, this bike is excellent at holding high speeds and is very easy to control when you are descending quickly. Larger wheels offer a more stable base, and being 29", you have a huge variety of different tires to choose from.
The RSUB also comes with mechanical disc brakes. With larger wheels, you get bigger disc brake rotors for much better stopping power, and they work excellently even in poorer weather conditions.
OUR VERDICT
The ElliptiGO RSUB is an epic elliptical bike and had to have a place on this list. It looks fantastic, will ride excellent, and come in at only $1499. There's very little I don't like, and it ticks a lot of boxes for us but isn't ideal for any off-road terrain.
Best for Functionality
Me-Mover Fit Folding
KEY SPECS
| | |
| --- | --- |
| Frame | Aluminum |
| Gearing | Single Speed |
| Brakes | Disc Brakes |
| Wheels | 12" |
| Price | 39kg with trainer |
| Weight | 39kg with trainer |
| Bike Type | Road, Light Off-Road |
PROS
Looks Great in a stealthy black
Amazing to ride with the dynamic lean
Folding Ability unlike many other ellipticals
Home Trainer Add On
Disc Brakes for great stopping power
Price is good for everything you get
It's an investment at $2320
CONS
It looks quite complex compared to the others
Heavier than other elliptical bikes on this list
The first elliptical bike I want to discuss is the Me Mover Fit Folding. Me Mover is a big brand when it comes to elliptical outdoor bikes. They make many different models which cater to a wide variety of users and are well known for their quality.
The Me Mover Fit Folding is made of aluminum. It's lightweight, strong, and offers a great ride. Unlike many other ellipticals, this bike can fold up. This makes it ideal if you need to travel or are short on space at home.
It's a unique three-wheel system that offers a dynamic lean ability and makes this elliptical incredibly fun to ride. Alongside that, the three 12" wheels offer excellent stability, and it is incredibly easy to learn how to use and great for beginners.
It has a single-speed gearing system which is great for simplicity, but if you live in very steep hilly areas, you might want to go for a geared bike. It comes with disc brakes which require good stopping power even though they have quite small motors.
The Me-Mover Fit Folding doesn't just come as an elliptical. It also has a home trainer, which can be attached to the bike, so you can use it at home if the weather is a little too bad outside. This is such an amazing feature that I am a huge fan of, making this a very reliable form of exercise.
OUR VERDICT
The Me Mover Fit is a great bike to get your fitness fix in. It's easy to ride and great for beginners. I love that it comes with the home trainer option and is a fun exercise method. It's not the lightest and looks very complex compared to the others, but generally, I rate it a strong 7/10.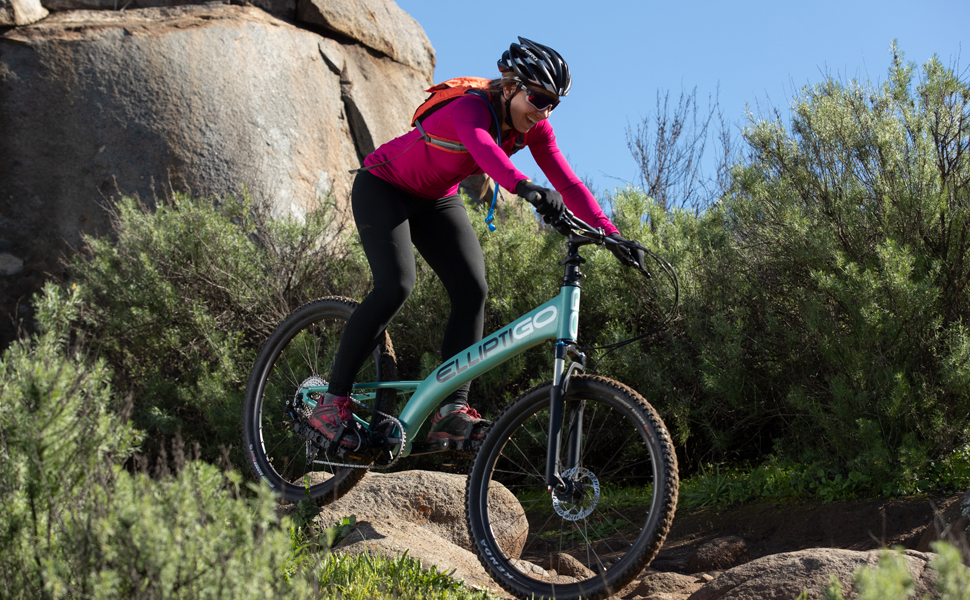 Best Outdoor Elliptical Bikes Buyers Guide
When it comes to finding the perfect elliptical for you, it can be very challenging, and there's a lot you need to be thinking about. Here are the questions you need to be asking yourself.
Does it Fit You?
The first question you must ask yourself is, does the Elliptical fit me? Although ellipticals generally work with a wide range of users, it is worth checking that it works for your height. Many companies choose a one size fits all approach which is the best way.
What's Your budget?
When buying an elliptical, I recommend having a budget before buying one. It's easy to go in without a budget, but if you do, you end up with an elliptical which is very cheap or too expensive.
Is it Right for the Riding You Want to Do?
You must get the right one for your riding when looking for the perfect elliptical. If you plan to go off-road, you will want to use an off-road elliptical, and if you want to go on the road, a road elliptical.
Do You Have the Space?
Ellipticals are generally not very small. It's important to understand the space they take up. I recommend checking your space, and if you don't have much, choose a folding option.
Final Note
Outdoor elliptical bikes are a great way to exercise and have many benefits. Many cyclists use them instead of typical bikes as they give a completely different and unique experience. Although they might seem rare to see now, we feel in the future, they will be a lot more common and a type of bike you will see on the roads and trails all the time. I hope you enjoyed our article and now know about our favorite recommended outdoor elliptical bikes for you and are ready to move forward and consider purchasing.
If you enjoyed this article, you might like the following:
Frequently Asked Questions
I'm Robbie Ferri, a writer from Norfolk in the UK. I love cycling, the gym, and have a huge passion for sharing my stories and knowledge to anyone with the time to read them. My main passion is cycling. I started eight years ago. In that time I have broken world records, cycled all over the world in Ultra Bikepacking races, and am lucky enough to have enjoyed some incredible times on two wheels with some incredible people. I have also worked in a bike shop and with some of the industries leading brands, not just promoting products but designing them too.
Under it all I am just someone very passionate about exploration and living a healthy lifestyle. Everything I do I put 100% into it and feel that life is for living. Never should you have a dull day.