(Last updated on January 20th, 2023)
When I started looking for my first bike, I was hesitant to buy into the idea of a women's specific bike. Too many times, I've gotten caught up in the whole 'shrink it and pink it' women's market where retailers charge extra to make something in a women's color. But when I got away from the stigma surrounding women's marketing and really started looking at women's bikes, I realized there are some actual advantages to women's bikes – especially if you are looking for the best women's mountain bike.
The best women's mountain bike for you will fit your geometry and type of riding. But it also has to fit your budget, which is why we create this list of the best women's mountain bikes.
In this article, we'll take a look at the six best mountain bikes for women. We'll talk about the features, pros, and cons of each one. We'll also give you a buying guide and talk about what to look for in a good women's mountain bike. Then, of course, keep reading to the end to find out our favorite one! But before we jump into the bikes, let's take a look at what makes a women's specific mountain bike and whether or not you need one.
What Is a Women's Mountain Bike, and Do You Need One?
After comparing countless women's bikes, I came to the conclusion that there are some really good characteristics that make women's bikes a little different from their unisex counterparts. They aren't simply smaller bikes – a good women's bike, especially a mountain bike – is created with a women's size, shape, and skill in mind. So let's take a look at some of the characteristics of women's mountain bikes.
Frame Size
Since women generally tend to be a little bit shorter than men, women's mountain bike manufacturers make women's bike frames in smaller sizes. So if you're relatively short, like I am, you may need a women's specific bike just because of your height.
Some women's bikes also have a lower top tube, so it's easier to swing your leg over, too. Standover height is essential, especially on a mountain bike, because it has a higher bottom bracket, which means the entire bike sits a bit higher.
Frame Shape or Geometry
Geometry, or frame shape, is a way of measuring just how the bike fits you. For example, a larger person will need a larger frame, while a shorter person will need a smaller frame. However, there are more ways to adjust the frame of the bike so that it fits you even better. Some bikes sit taller, while other bikes have you leaning forward in a more aggressive position.
In my case, I have a short torso and long legs for my height. This means the geometry of the bike is adjusted to have a shorter reach and a higher stack, so you don't feel stretched out.
Other bikes have a longer reach – so if you have a longer torso, you won't feel cramped up on the bike.
Keep in mind that although a majority of women may have shorter torsos, not all do! So, in this case, you may not need a women's specific bike. For example, a woman who is taller, with a longer torso and shorter legs might feel more comfortable on a unisex bike – it will have a longer reach from the seat to the handlebars, which could be more comfortable for them.
Saddle Design
One of the most critical aspects of a bike – mountain or otherwise – is the saddle. Women tend to have wider sit bones and therefore need a differently shaped saddle than male riders. Also, because of the way many women's anatomy is shaped, a cutout saddle may be necessary to remove the pressure on delicate tissues.
For me, a cutout saddle is necessary for a comfortable ride, and typically women's specific bikes keep those delicate tissues in mind. But, of course, if you prefer a unisex bike, you can always change out the saddle.
Suspension
There really aren't 'women's specific' shocks out there. However, two women's bike brands, Liv and Juliana, tune their shocks specifically for women to account for their lighter weight (typically speaking) and to make the ride feel smoother. Most full-suspension bikes can be tuned however you want, though.
As a small rider, I personally need my suspension tuned a little bit differently than my heavier companions.
Color Schemes
Although the bike industry doesn't seem to equate being female with loving pink, there are lots of beautiful color choices available for women that men may not have. So if color is important to you, this might be a reason to get a women's bike!
I get the most compliments on my purple bikes – far more than on my basic black or grey bikes.
Wheel Size
If the geometry is significantly changed to accommodate a smaller rider, you may need to have smaller wheels to prevent too much twitchiness or toe overlap, as I've found on some of my bikes.
So you may need to look for a women's bike that has smaller wheels – say 27.5 inch wheels rather than 29 inch. On the other hand, 29-inch wheels will tackle bigger obstacles a little bit better than smaller ones, so if you like to ride rough, you might want the larger wheels anyway!
Women's Mountain Bike Wheel Sizes
| | |
| --- | --- |
| LIV Intrigue | 27.5 inch |
| LIV Pique | 29 inch |
| Canyon Exceed | 29 inch |
| Scott Contessa | 29 inch |
| Juliana Furtado | 29 inch front and 27.5 inch rear |
| Juliana Roubion | 92 inch front and 27.5 inch rear |
So how do you know if you need a women's mountain bike?
Consider these factors:
You're short or very light and need a very small bike
You love women's bike colors
You have a short torso but long legs
You love promoting women's biking
Now that you know what makes a women's mountain bike let's take a look at the six best women's mountain bikes!
Best Women's Mountain Bikes
Bike Name
Who it's for
Price
Where to buy?
Rating
LIV Intrigue Advanced
Best women's mountain bike for smaller riders.
$3,900
Check price
10/10
LIV Pique
The LIV Pique is an affordable cross-country bike that's great for beginners.
$2,600
Check price
9.5/10
Canyon Exceed CF 7 WMN
Best women's mountain bike for beginner racers.
$3,199
10/10
Scott Contessa Scale 930
Best entry-level women's mountain bike.
$1,499.99
Check price
9/10
Juliana Furtado 5
Best women's full-suspension mountain bike for the tiniest riders.
$5,299
Check price
9.5/10
Juliana Roubion
Best for someone who wants to ride all the terrain.
$4849
Check price
9.5/10
Best Women's Mountain Bike for Smaller Riders
1. Liv Intrigue Advanced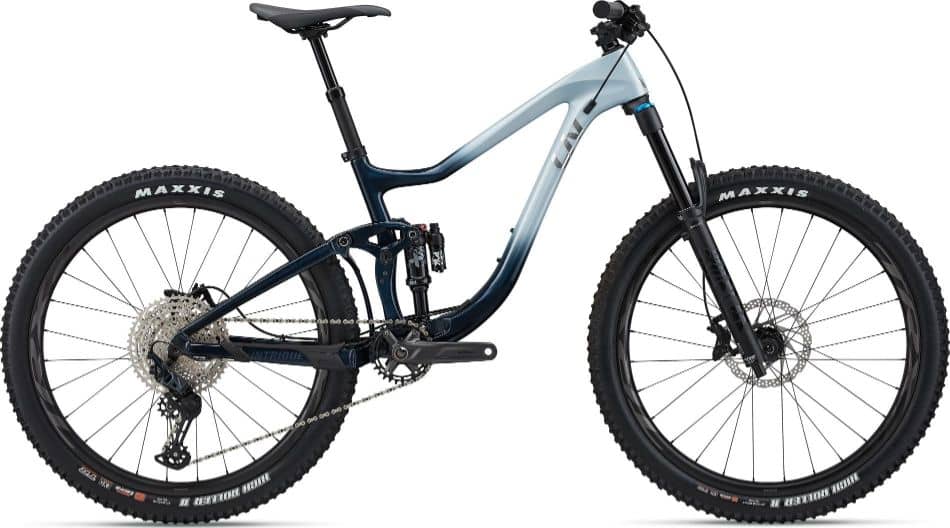 KEY SPECS
Full-suspension, mid-travel with 140mm rear and 150mm front
Optional 27.5 or 29" wheels
Great for trails and moderate descents
Full carbon frame
Hydraulic Brakes
30t chainring with 10×51 cassette
Best for beginners and non-rowdy riders
PROS
This is a well-rounded, full-suspension mountain bike
Plenty of stopping power
Will cover moderate but not overly technical terrain
CONS
Don't try very technical trails with this bike
It doesn't maintain speed as well as other similar bikes
The LIV Intrigue Advanced is a moderate all-rounder. We love that it can do a little bit of everything, from climbing to not-too-crazy descents and lots of trails. Its carbon frame is relatively lightweight, and the suspension is tuned for lighter riders.
It has plenty of stopping power, enough travel on the suspension for moderately technical terrain, and a comfortable position on the bike.
I love LIV bikes for their attention to detail when it comes to women-specific frames. They don't end up being twitchy like other brands but have smooth, capable handling, even in structures for people who are short, like me. I gave them a 10 out of 10 for making a reasonably priced bike for small riders that is incredibly capable.
OUR VERDICT
The LIV Intrigue is the perfect all-rounder for anyone woman who wants to try everything without getting too crazy and technical.
Affordable Cross-Country Bike for Beginners
2. LIV Pique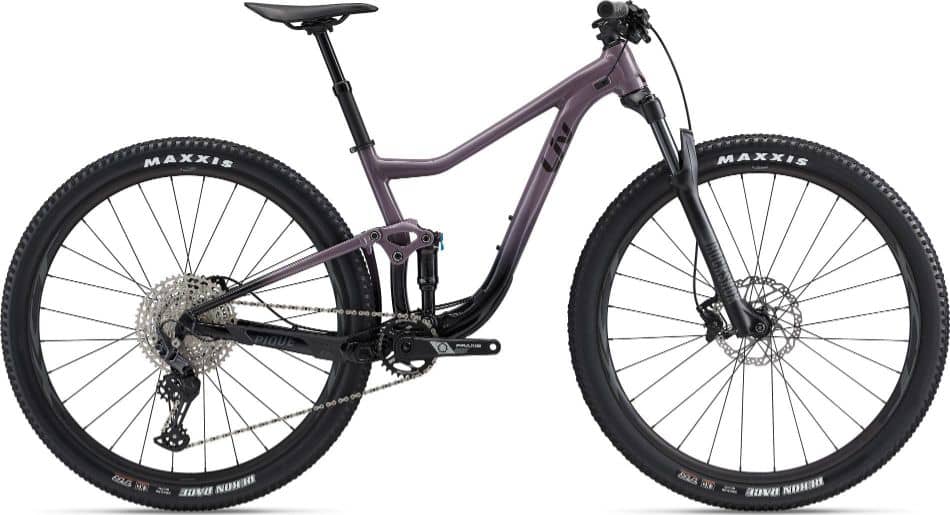 KEY SPECS
Optional Wheel sizes: 27.5" or 29"
Full suspension with 100 MM of travel in front and rear.
Great for cross country.
Aluminum frame keeps costs lower
30t chainring with 10x51t cassette
Hydraulic disc brakes
PROS
Great for cross-country riders or those who are new to mountain biking.
Very affordable.
Excellent stopping power with a wide range of gears.
CONS
Aluminum frames won't absorb as much chatter as carbon frames.
Don't try anything too hard or technical on this bike as it doesn't have enough travel.
If cross-country is your jam, the LIV Pique definitely gets the job done well. This is a short travel bike with only 100MM of travel in both the front and rear suspension systems. So you don't want to hit trails that are too technical, but you can enjoy all-day, off-road adventures with this very affordable bike.
This bike only gets 9.5/10 because it's aluminum. And although that keeps the price down, it also makes the ride a little less comfortable.
OUR VERDICT
The LIV Pique is a fun bike for hitting cross-country trails. It has a balanced full suspension with great stopping power.
Best Women's Mountain Bike for Beginner Racers
3. Canyon Exceed CF 7 WMN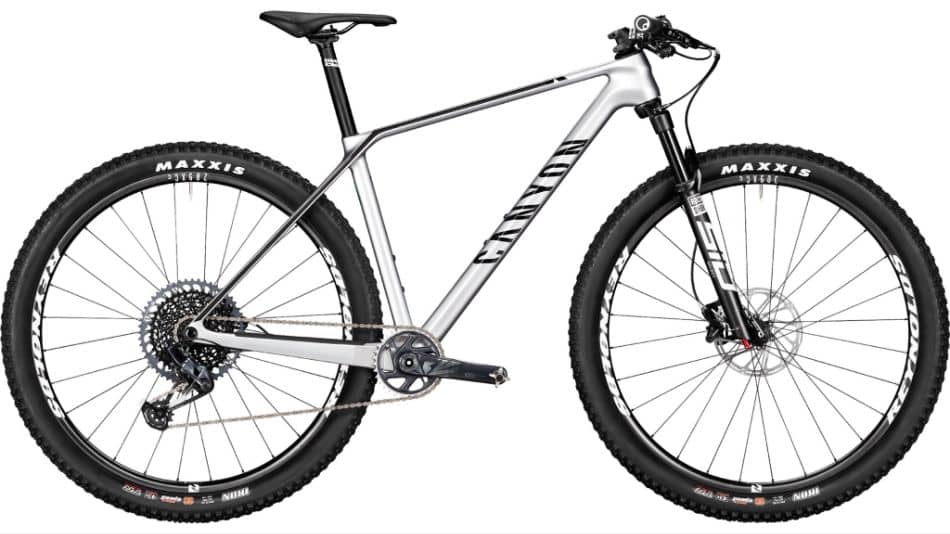 KEY SPECS
34t chainring with a 10-52t cassette
Wheel size: 29"
Sizes XS, S, M, L, XL
PROS
A lightweight and stiff hardtail is a great race bike.
Built for speed and agility
Reasonably-priced bike for the components.
Amazing paint job.
CONS
The seat post could be upgraded to reduce more vibration.
Canyon bikes are often out of stock.
I love how Canyon adjusts the entire bike frame to fit women's geometry rather than just shrinking it up. I also love how their direct-to-consumer model reduces the price and gives you a lot of bike for your money. It's loaded with features for a great price. This is a hard-tail bike, though, so you'll love racing it, but you won't love hitting technical trails.
The Canyon gets a 10/10 because it's a great well-rounded bike for the price of $3199. Canyon takes good care of its small riders and the bike is pretty, too!
OUR VERDICT
This bike is as fast as it is eye-catching! We just love how it flies over the trails with ease and looks good doing it.
Best Entry-Level Women's Mountain Bike
4. Scott Contessa Scale 930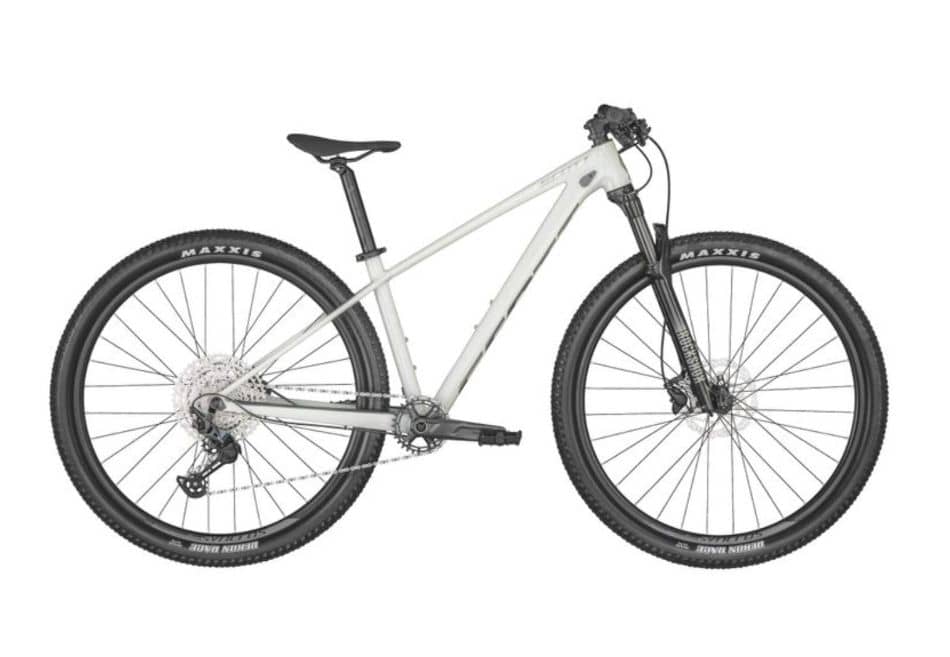 KEY SPECS
Lightweight aluminum frame
Hardtail with 100mm Front travel
Balanced handling with good stability
30t chainring with 10-51t chainring
Sizes S, M, L
Shimano Disc Brakes
Budget price
PROS
A great bike for the price
29" wheels get you over plenty of obstacles
CONS
Not for technical terrain
Only available in small, medium
Best for beginners looking to race without spending a lot of cash.
Scott bikes weren't really on my radar until I discovered the Scott Contessa. The Scott Contessa is a great way to get into mountain biking without breaking the bank, with a price tag of $1499.99. The lightweight aluminum frame keeps the cost down. It's fast but stable, and while it isn't great for super technical terrain, it's great for beginners looking to race.
I actually love this bike a lot, but it only gets a 9 out of 10 because it doesn't come big enough for some riders.
OUR VERDICT
It's hard to beat this entry-level bike. We love how this bike makes mountain biking accessible for smaller, newer riders.
Best Women's Full-Suspension Mountain Bike for the Tiniest Riders
5. Juliana Furtado 5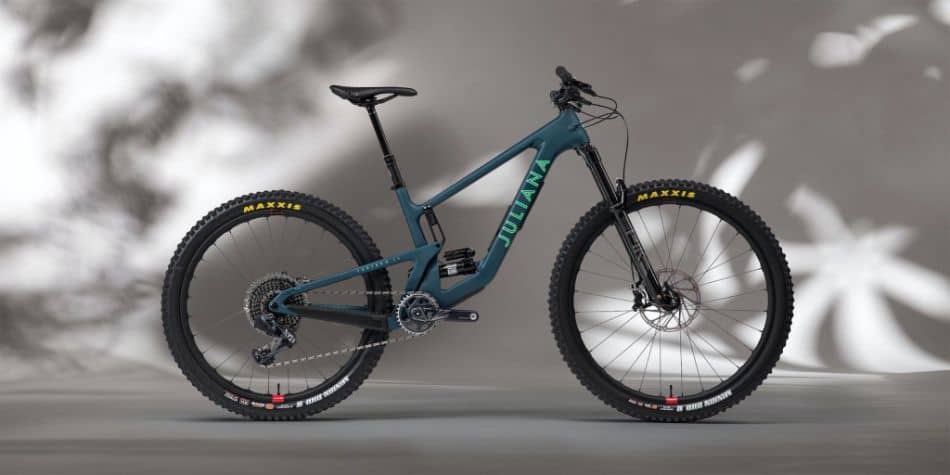 KEY SPECS
Short-travel bike with full suspension: 130MM rear and 140MM front
Sizes XS, S, and M are designed for riders from 4 foot 8 inches to 5 foot 9 inches.
Wheels: 27.5" rear and 29" in the front.
32t chainring with 11-50t cassette
In-frame storage compartment.
Best for beginners and non-rowdy riders
Carbon frame
PROS
Stable and responsive
Great for both climbing and descending
Accommodates very short riders.
CONS
Expensive – other bikes are available at lower price points for the same quality.
The Furtado 5 gives you stability in the front and liveliness in the back! It's an excellent bike for shorter women with its mullet wheel setup and can accommodate ladies as short as four foot eight inches tall, which is great news to a short lady like myself! These bikes run $5,299.
This bike gets 9.5/10 because it's great for tiny riders, although it doesn't come in the largest sizes.
OUR VERDICT
The Furtado is an ideal full-suspension mountain bike for small riders. It climbs and descends well, and the full-carbon frame keeps the weight down in spite of the full-suspension system so smaller riders won't get bogged down with heavy equipment.
Best for Someone Who Wants to Ride All the Terrain
6. Juliana Roubion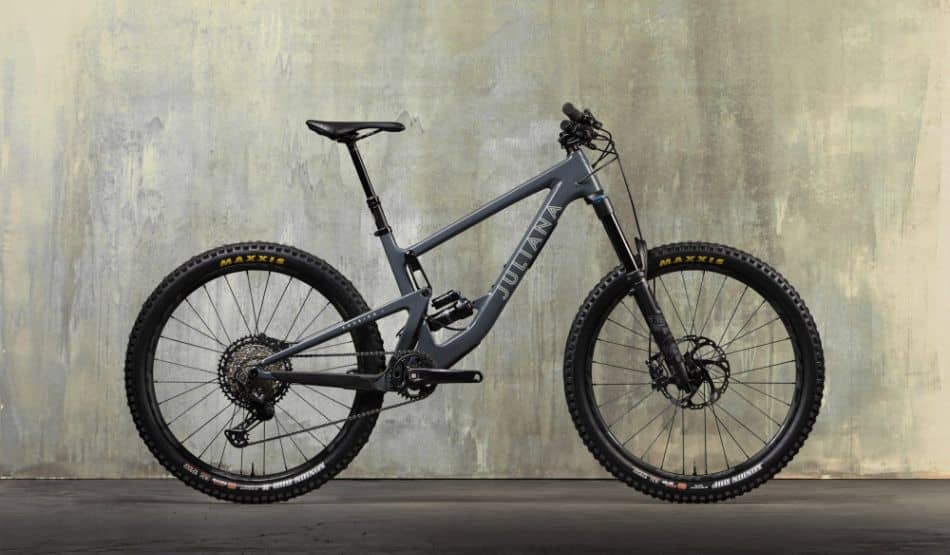 KEY SPECS
Wheel size is mixed with a 29" wheel in front and 27.5" in the rear.
Full Suspension with 150MM rear travel and 160MM front travel.
32t chainring with 11-50t cassette
Available in XS, S, and M.
PROS
Stable and nimble
Great for smaller riders
CONS
Kind of a blah color scheme.
Not available for tall riders.
The Roubion brings it all together with mixed wheel sizes and flip-chip geometry. It gives you plenty of travel to hit those spicey descents with confidence, something I absolutely need when the going gets a bit rocky. The mixed wheels give you lots of stability in the front but nimble turning in the back, so you really get the best of both worlds here. This bike gets a 9.5 out of 10
For its great handling but it needs some prettier colors to spice it up.
OUR VERDICT
This bike is for you if you want to try a little bit of everything – it can handle it all but the most technical of terrain.
Guide to Choosing the Best Mountain Bikes
Suspension: Full-Suspension or Hardtail?
The suspension on your mountain bike helps make the ride experience more comfortable and gives your tires better traction on rough terrain.
A hardtail bike has suspension in the front fork. On the other hand, a full-suspension bike has suspension in the front fork and a suspension shock on the rear.
Full-suspension bikes are heavier and more expensive but are better for steep, rough terrain. Hardtails are easier to maintain and are better for climbing, and seem to be more popular with cross-country riders.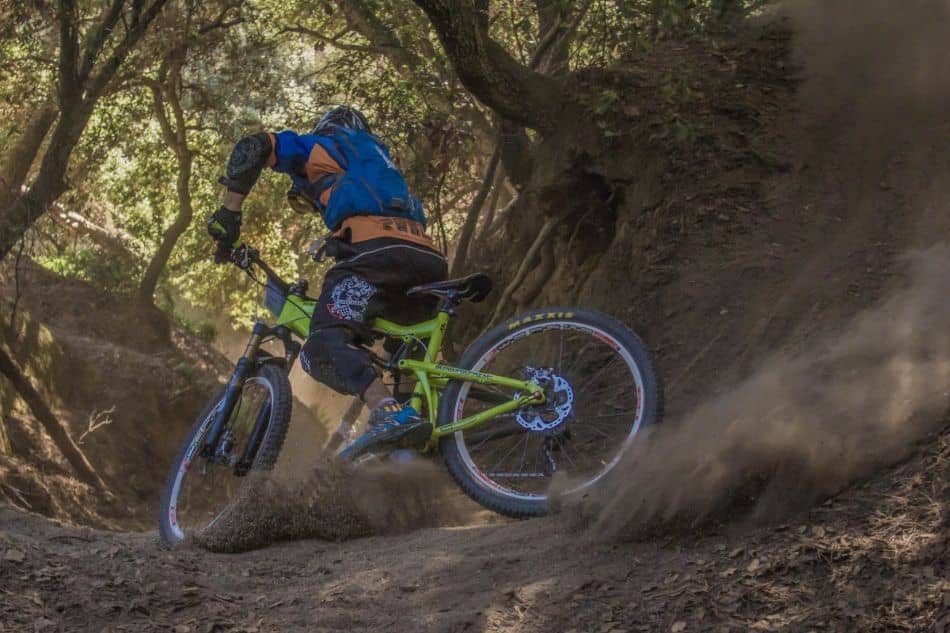 Bike Type
Did you know there are a lot of different types of mountain bikes?
Cross-country or XC. These bikes are made for off-road speed and long distances. They typically have 29-inch wheels and 80 to 100mm of travel in the suspension fork.
Trail bikes. These are popular because they are the most versatile. They feature a more relaxed geometry for stability and comfort, do relatively well climbing, and have about 130 to 150mm of travel on full suspension or hardtail. These are sort of the all-rounders.
Downhill bikes. These are made for going downhill fast and feature a massive 200mm of travel in their suspension. They don't climb well, though, so expect to take a chair lift up steep mountains.
Enduro bikes. These are great for long rides and a variety of terrain. They're great for exploring and usually have 160 to 170mm of travel in their full-suspension setup.
Wheel Size
Typical wheel sizes on modern mountain bikes are 27.5 and 29inch, depending on how large of a rider you are and what types of obstacles you'll be tackling on your rides.
Brakes
Brakes are a critical component of mountain bikes since you may be flying downhills in dirty muddy conditions. Hydraulic disc brakes are a popular choice for mountain bikes because of their extra stopping power.
Group Set
The quality of your group set – your chainrings, cassette, chain, and rear derailleur – will affect the quality of your shifting. Also, most mountain bikes feature a single chain ring with a large cassette in the back to give you a wide range of gears.
Dropper Post
Many mountain bikes feature a dropper post which gets the seat out of your way for technical terrain. This may not be critical, depending on the type of riding you do.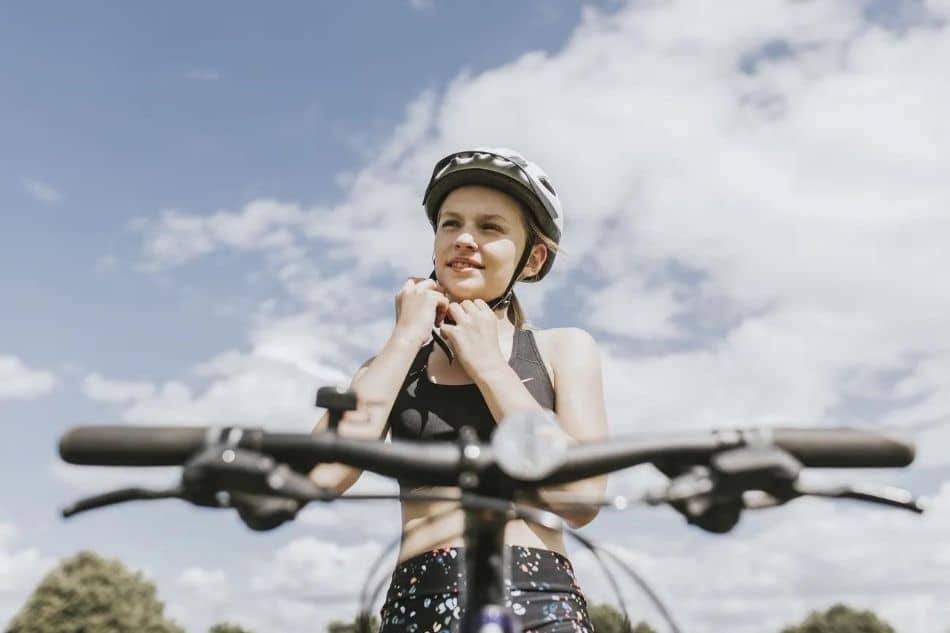 Frame Material
Mountain bikes are available in a wide range of frame materials. Steel gives a smoother ride but is heavier, while carbon is lighter but more expensive. Many mountain bikes are aluminum, which is a cost-effective choice. However, mountain bikes are generally heavier than road bikes, so choosing the lightest frame material may not give you much advantage anyway.
Budget
Of course, mountain bikes aren't cheap. The lower the price tag, the lower quality of the components. The higher the price tag, the better quality of the components. You'll have to find the bike that you love that also fits your budget.
However, you need to remember that you get what you pay for, so a low-priced bike probably won't shift very well or last very long. While there is nothing wrong with an entry-level bike for beginner mountain bikers, you'll probably want to avoid bikes that are under $1000.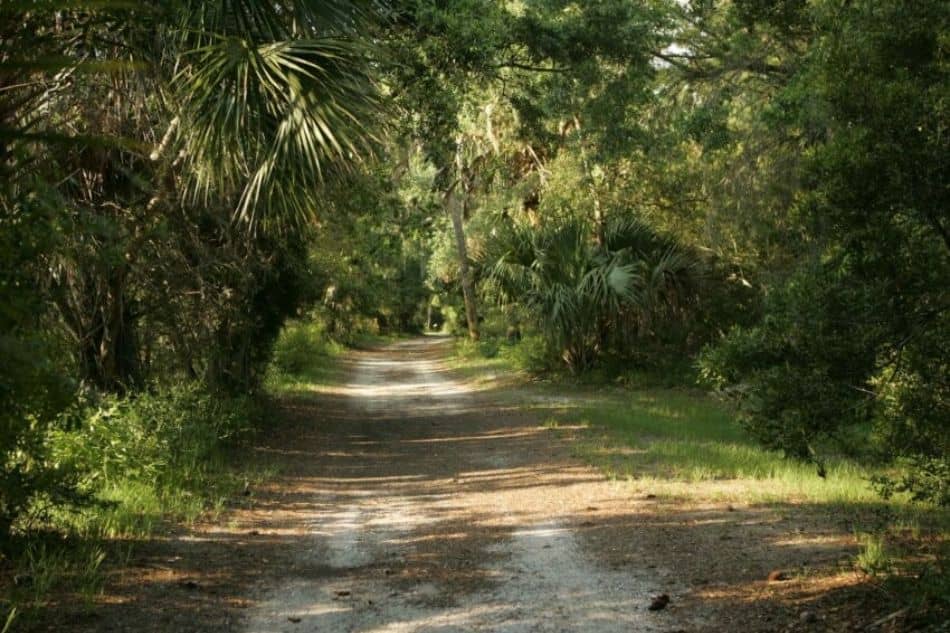 Final Thoughts on The Best Mountain Bikes for Women
I generally hate to play favorites because, ideally, only you can know what bike fits you best. You can't know how they feel or fit unless you go and give them each a great test drive. That might not be possible, though, so I'll just tell you my favorite.
If I had to go and buy a mountain bike today without the chance to try a few, it would be hands-down the LIV Intrigue Advanced. First of all, I am completely partial to LIV and their commitment to encouraging female riders. LIV is at the forefront of helping women professional athletes be fairly welcomed into the sport, and I am thrilled to get behind that.
But it's also about the bike. LIV does a terrific job of sizing their bikes to fit women's figures. And although we thankfully and gloriously aren't all the same size and shape, LIV bikes are definitely more proportioned for the female shape. In addition, LIV geometry is able to accommodate full-size wheels without making their small bikes twitchy, which is a huge gift to a short rider like myself.
Considering that I'm more of a timid rider, I won't be smashing any downhills any time soon, although I do love adventure and exploring off-road. So a solid all-rounder with great components at a great price makes perfect sense for me. The LIV Intrigue is absolutely my favorite bike on this list.
But you have to love the bike you ride, and all of these bikes are specially designed to fit women's bodies and make women feel good while riding them. And that makes the best bikes!
Frequently Asked Questions
What is the best women's mountain bike under $2000?
The Scott Contessa is a women's mountain bike that costs less than $2000. Although it is an entry-level bike, it is a great bike for women just starting out. The cost of this bike makes mountain biking very accessible, even to people on a tight budget.
What is the best women's hardtail mountain bike? 
The Canyon Exceed is a great women's hardtail mountain bike at a very accessible price point. Their direct-to-consumer model helps to save money on the price of the bike, although you will need to find someone to put it together for you if you don't feel confident doing it yourself. 
Do I need a full-suspension mountain bike?
Full-suspension bikes are usually heavier and more expensive than their hardtail counterparts. However, they make for a much smoother and more comfortable ride. They also give you more traction on loose surfaces, making them a little bit safer.
Can women ride men's bikes? 
Yes, women can certainly ride men's or unisex mountain bikes, and men can ride women's mountain bikes. The idea behind women's mountain bikes is that they are designed to fit a woman's body. However, as long as the fit feels good to you, it doesn't matter if you ride a women's or men's specific bike.
Do I need a women's mountain bike? 
You might want a women's mountain bike if you are short or light. You may also want a women's mountain bike if you have long legs with a short torso. However, women's saddles can be put onto unisex bikes, so saddle comfort isn't necessarily a good reason to get a women's bike if you don't want one.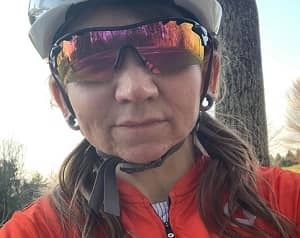 Amanda Whittington is an expert writer, impassioned cyclist, and musician. Coming from a diverse educational background, Amanda discovered a deep-rooted passion for encouraging others through her love of all things cycling, writing, and inspiring hope. 
You'll likely find Amanda pouring over bike specs, comparing the hottest cycling tech, and sporting the latest jerseys while juggling the demands of her editorial calendar, training schedule, tiny homestead, and 6 busy kids. 
She spends her free time absorbed in her own gardening and fitness, cycling, and reading, all while encouraging adoption and foster care, championing the underdog, and of course, working with her chickens and goats.